Dr Aditya

 Chauhan 
St. John's College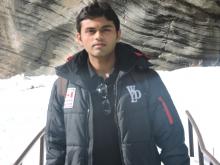 ac923@cam.ac.uk
Research interests:
Photocatalysis for air and water disinfection and hydrogen production; ceramics for energy applications and solid-state caloric effects.
Other interests:
Travelling, adventure sports and (trying to learn) musical instruments.
Awards and honors:
Paper selected as cover article for Energy Technology (February 2015).
Indian Science Congress Association's Young Scientist Award (2014-2015).
Links: